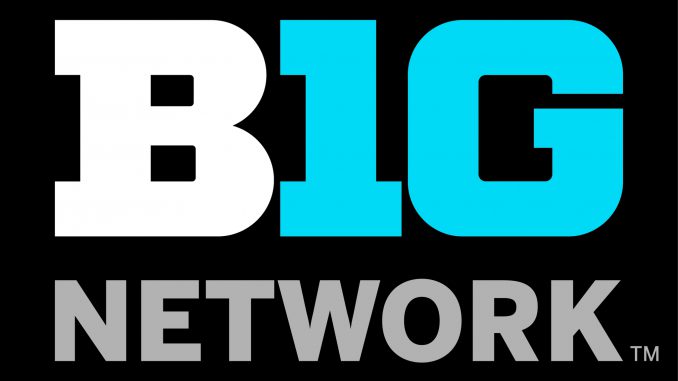 Top Seeded Buckeyes Survive Late Spartan Rally
by: Shawn Martin/Excel H Sports
Top seeded Ohio State asserted themselves fairly early and took control of their quarterfinal contest with the eighth- seeded Michigan State in Gainbridge Fieldhouse in downtown Indianapolis Friday morning.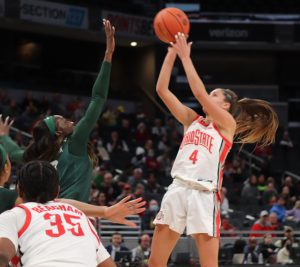 Photo by: Rex Crabtree/Excel H Sports
The Spartans turned the ball over an uncharacteristic nine times in the opening ten minutes of the game, and that was a hole they could never quite dig out of.
Indianapolis native Rikki Harris had eight points in the opening quarter as the Buckeyes built a 22-8 lead enroute to a 74-58 win over the Spartans.
The Buckeyes expanded their lead in the second quarter behind the scoring of guards Jacy Shelton and Taylor Mikesell. Ohio State doubled up Sparty 34-17 with 5:37 left in the first half and finished the second quarter up 44-29.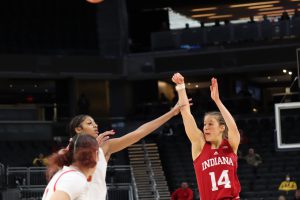 Photo by: Rex Crabtree, Excel H Sports
The Spartans came out after halftime and played gutty and kept chipping away at the Buckeye lead. The first four and a half minutes of the third, Sparty cut the lead from 15 at halftime to 9. From there, the margin stayed steady until Michigan State made what turned out to be their final push when freshman DeeDee Hagemann hit a running layup with 4:10 left in regulation to cut the Buckeyes lead to six, 64-58.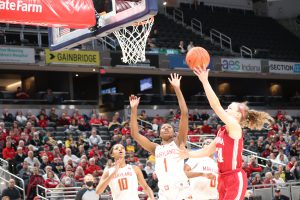 Photo by: Rex Crabtree/Excel H Sports
Those would be the last points for Michigan State, as the Buckeyes closed out the game with a 10-0 run to get to the final margin.
Ohio State (23-5) placed four in double figures, led by Sheldon with 19. She was helped by Mikesell with 18, Tonya Beacham with 15, and Harris had 14. The Bucks will play either Maryland or Indiana Saturday afternoon.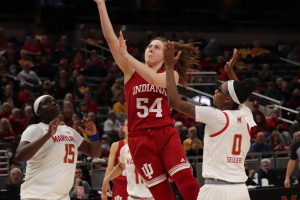 Photo by: Rex Crabtree/Excel H Sports
Michigan State (15-15) had freshman Matilda Ekh with 21 as their only player in double figures.