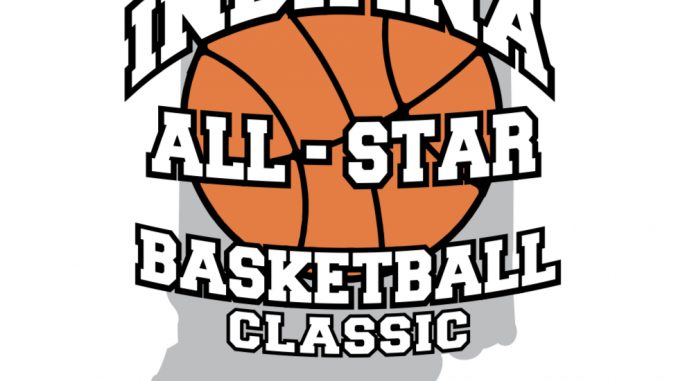 Indiana Basketball All Star Classic announces Boys' invitees 
Each student/athlete will receive an invitation that needs to be filled out with a confirmation or decline.
The invitations will be emailed to the head coach and athletic director.
Invitations for the Junior Boys's games will be sent out Tuesday, April 11th, 2023.
Invitations for the Future Boys's games will be sent out Wednesday, April 12th, 2023.
For those that decline the invitation a student/athlete will be selected and sent information to the event.
What we will do is once a student/athlete has accepted their names will appear.
Game times for the Boys will be: June 16th, Juniors: 10:30 a.m. or 1 p.m.
Game times for the Futures will be June 16th, 4 p.m. or 6:30 p.m.
Teams will be announced once all participants have accepted.
JUNIORS (2024's)
Zeke Tanoos-West Vigo
Will Jamison-Homestead
Quade Morton-Pike Central
Tillman Etchison-Hamilton Heights
Mason Harvey-Seton Catholic
Matthew Roettger-Peru
Reis Beard-Kokomo
Jaelyn Johnson-Portage
Trey Buchanan-Westfield
Camden Webster-Kankakee Valley
Reis Butcher-Brebeuf Jesuit
Philip Randolph-International School
K C Berry-Decatur Central
Izaak Wright-Wabash
Nathan Moore-Frankton
Drew Hill-South Putnam
Jacob Scruggs-South Decatur
Meryck Adams-Daleville
Jacob Taylor-Logansport
Kyler Krull-Whitko
Robert Sorenson-Guerin Catholic
Mark White, Jr.-Ben Davis
Zayvion Baker-Terre Haute South Vigo
Braden Walters-Linton Stockton
Michael Roberson-Knightstown
Jevon Lewis, Jr.-Fort Wayne Anthony Wayne
Grant Goller-Northeast Dubois
Julian Gish-Pike Central
Xavier Highbaugh-Indianapolis Cardinal Ritter
Jacob Grim-Yorktown
Gavin Kelich-Madison Grant
Cadell Wallace-Fort Wayne Bishop Luers
Cole Duncan-Cowan
Isaac Zay-Fort Wayne Bishop Luers
A J Demick-Shenandoah
Carson Cuneo-Alexandria
Kane Wilsey-Evansville Day
Evan Gagnon-North Newton
Shane Sims, Jr.-Evansville Harrison
Mason Kidd-Cowan
FUTURES (2025, 2026's)
Carter Kent-Jennings County
Michael Cooper-Jeffersonville
Caleb Wright-Sheridan
Zion Bellamy-Kokomo
Elexander Harris-Indianapolis Arsenal Tech
A J DeFur-Mooresville
Hudson Horvath-Park Tudor
Melakih Cunningham-Decatur Central
Bryson Cardinal-Guerin Catholic
L J Ward-Indianapolis Lutheran
Collin Lewis-Anderson H.S.
DeZhon Hall-Charles A Tindley Accelerated
Luke Ertel-Mt. Vernon-Fortville
Treigh Schelsky-Parke Heritage
Brayden Luce-Parke Heritage
Albert Gooden III-Lawrence Central
Brennan Miller-Lawrence North
Jaymen Townsend-Marion
Josiah Love-Wes Del
Gavin Betten-Manchester
DeAndre Lott-Hancock-Indianapolis Crispus Attucks
Kasien Stevenson-Indianapolis Cardinal Ritter
Drew Matelic-Speedway
Mason Carpenter-Richmond
Clay Tharp-Monrovia H.S.
Braydon Hohlt-Perry Meridian
Garrett Clark-Portage H.S.
Cody Evans-Greencastle H.S.
Deion Edwards-Springs Valley H.S.
Cole Thomas-South Central Elizabeth
Bryce Mathis-Perry Meridian
Carson Pieczonka-East Central H.S.
Chris DelValle-Logansport
Lavell Tinsley-Boonville H.S.
Joey Wright-Frankton H.S.