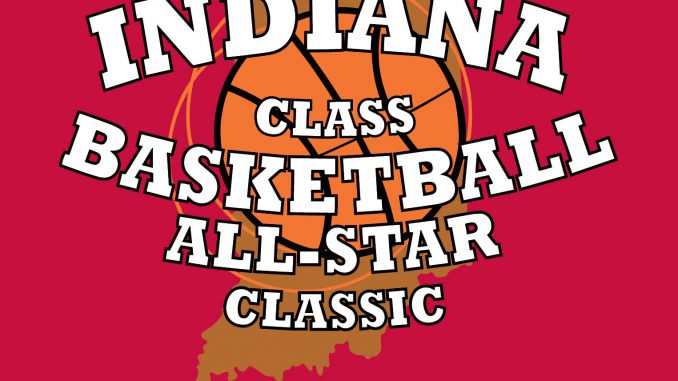 Schedule of Events at Anderson University, Kardatzke Wellness Center
June 15: 12:30 p.m. 2018 Senior Girls and 2:00 p.m. 2018 Senior Boys
June 15: 6:30 p.m. Future Girls (2018 Soph & Frosh together) and
8:00 p.m. Future Boys (2018 Soph & Frosh together)
June 16: 12:30 p.m.  2018 Junior Girls and  2:00 p.m. 2018 Junior Girl
June 16: 6:30 p.m. 2018 Junior Boys and  8:00 p.m. 2018 Junior Boys
Wow! has it already been ten (10) years since Kent Benson and I started the Indiana Class Basketball All-Star Classic?  Well, that answer is a definite YES!!!
This year we are super excited about the quality of young women and men we have invited to participate and they have accepted our offer and scheduled to attend!
Our entire team says a hearty thank you to each and every participant!!!
SENIOR GIRLS: Friday, June 15th, 2018 at 12:30 p.m.  Please arrive by 11:30 a.m.
TEAM WHITE:
Lucy Carrigan Rising Sun
Sophia Pierce Leo
Jada Dixon Gary Westside
Payton Moore Tri High
Kyla Reid Evansville Harrison
Skye Williams Charles A Tindley
Emelia Bryant Cascade
Olivia Bryant Cascade
Addy Miller Tippecanoe Valley
TEAM RED:
Britney Ballard Columbus East
Destyne Knight Frankton
Erika Foy Mississinewa
Kendall Fisher Charles A Tindley
Nola Wilson Charles A Tindley
McKenna Baker Bethesda Christian
Krisen Hunt Elkhart Central
Syenna Powell Maconaquah
FUTURE GIRLS: Friday, June 15th, 2018 at 6:30 p.m.  Please arrive by 5:30 p.m.
TEAM WHITE
Ari Wiggins Heritage Christian
Chanteese Craig Fort Wayne Concordia
Madison Layden Northwestern
Ella Collier Danville
K'Ja Talley Warren Central
Sydney Jacobsen Harrison (West Lafayette)
Mary Wilson Center Grove
Rachel Loobie Franklin Central
Dash Shaw Gary West Side
Jordyn Smith Penn
Sydney Jaynes Trinity Lutheran
TEAM RED
Kendall Bostic Northwestern
Kiara Lewis Lafayette Jefferson
Krystin Green Lafayette Jefferson
Alaina Omonode West Lafayette
Alana Vinson Roncalli
Sydney Watkins Heritage Christian
Juliana Kemper Lawrenceburg
Keegen Sullivan South Bend St. Joseph
Tyra Ford Anderson
Kathryn Perry Shenandoah
Haley Nichols, Avon
Tenleigh Phelps Triton Central
JUNIOR GIRLS: Saturday, June 16th at 12:30 p.m.  Please arrive by 11:30 a.m.
TEAM WHITE 1
Elise Scaggs Mooresville
Jessica Nunge Castle
Dazia Drake Owen Valley
Sylare Starks Homestead
Ambrey Wensey Ben Davis
Savaya Brockington North Central
Trinitee Harris Elkhart Central
Kelsey Mitchell Tipton
Kenzie Bergman NorthWood
TEAM RED 1
Jacqlyn Rice Paoli
Cameron Tabor New Castle
Cassidy Crawford Tipton
Jordyn Barga Monroe Central
Jenny Lundy Northview
Tatum Neal Clinton Prairie
Sophie Bussard Tippecanoe Valley
Kara Gealy Homestead
Brandi Norton  Lafayette Jefferson
JUNIOR GIRLS: Saturday, June 16th, 2018 at 2 p.m.  Please arrive by 1 p.m.
TEAM WHITE 2  
Madison Jones Western Boone
Kira Robinson Winchester
Riley Ott LaPorte
Jayla Rogers Indianapolis Shortridge
Lexi Thompson Lafayette Central Catholic
Staisha Hamilton Anderson
Claire Cunningham Columbus East
Rylee Morris Lutheran
TEAM RED 2
Alyssa Robben East Central
Addisyn (Addy) Blackwell Bloomington South
Kinnidy Garrard Pike
Sydney Freeman Central Noble
Morgan Litwiller Northridge
Nadia Lomax Columbus North
Ariana Booker Perry Meridian
Tori Combs Cloverdale