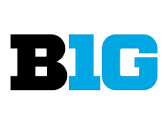 photo by Rick McIntyre, Excel High School Sports/McIntyre Imaging
by Steven Stremming
Indianapolis-The Wisconsin Badgers winners in their opening round game over Rutgers came back on Thursday evening with a decisive first half against Michigan State.
Wisconsin got out quickly and led 14-13 by the end of one quarter.  The second quarter  saw the Badgers once again outscore highly favored Michigan State 23-17 and have a 37-30 halftime lead.
Both McMorris and Young led the Badgers with ten apiece while State was led by Agee's nine and seven a piece from both Jankoska and McCutcheon.
Taya Reimer's double-double 12 points and 12 rebound along with Jankoska's 22 points and seven rebounds and Agee's 14 points and McCutcheon's 10 led the Lady Spartans.
McMorris led the way for Wisconsin with 18 aided by Young's 17 and Howard's 10 points and seven rebounds.