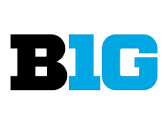 THE BIG TEN TO SUPPORT EDUCATIONAL INITIATIVES IN INDIANA
IRVING, Texas – The College Football Playoff (CFP) Foundation has partnered with the Big Ten Conference to continue funding educational initiatives in the state of Indiana. Through this activation in conjunction with Extra Yard for Teachers, the CFP Foundation and Big Ten will be recognizing teachers at the 2018 Big Ten Football Championship Game presented by Discover on December 1 in Indianapolis, while providing funds to enhance educational efforts in those teachers' respective classrooms and schools.
"The College Football Playoff Foundation is excited to continue our partnership with the Big Ten Conference to support Indiana teachers," said CFP Foundation Executive Director Britton Banowsky. "Teachers everywhere make such a difference with their positive influence on their students and we congratulate the ones who will be recognized at the Big Ten Football Championship Game."
The Big Ten worked with the Indiana Sports Corp to select 15 teachers, with the goal of recognizing 15 different schools in the state of Indiana. Each of the teachers (kindergarten through eighth grade) will be awarded a grant to assist them with educational projects. The 15 teachers will attend and be recognized at the Big Ten Football Championship Game at Lucas Oil Stadium.
"We are pleased to continue our partnership with the CFP Foundation and Extra Yard for Teachers for a third consecutive championship game," Big Ten Commissioner James E. Delany said. "This is a well-deserved recognition that highlights the impact these teachers have on the youth in the state of Indiana. The grants will allow these 15 educators to place a continued emphasis on the educational development of the next generation of college students."
"Indiana Sports Corp is proud to partner with the Big Ten Conference and College Football Playoff Foundation to support Indiana teachers throughout the state," said Indiana Sports Corp President Ryan Vaughn. "The selected teachers and schools have a tremendous impact on the lives of our youth and we are looking forward to honoring them on December 1 at the Big Ten Football Championship Game."
The following 15 teachers will attend and be recognized at the Big Ten Football Championship Game:
                  Teacher                                          School                                                                Location
Adam Ahlfield                               Eastwood Middle School                           Indianapolis
Julie Buck                                       Hoosier Road Elementary                         Fishers
Elizabeth Camacho                     Chapelwood Elementary                           Indianapolis
Mallory Canning                          Lew Wallace Elementary                           Indianapolis
Molly Coffman                             Sand Creek Elementary                             Fishers
Beth Desalvo                                Center for Inquiry 27                                  Indianapolis
Jeff Hurd                                        J.E. Ober Elementary                                  Garrett
Bethany Jackson                         Longfellow Middle School                         Indianapolis
Kelsey Logan                                 Yorktown Elementary                                Muncie
George Mahan                            Frank H. Wheeler Elementary                Speedway
Margo Melson                             Chapel Hill 7th & 8th Grade Center         Indianapolis
Heidi Stan                                      Clay Middle School                                       Carmel
Crissy Stephen                             Maple Glen Elementary                             Westfield
Courtney Stewart                       Mary Bryan Elementary                            Indianapolis
Christina Turner                          Pleasant Valley Elementary                     Muncie
RANDLE EL RECEIVES B1G'S FORD-KINNICK LEADERSHIP AWARD
BLOOMINGTON, Ind. – Former Indiana quarterback Antwaan Randle El (1997-2001) is this year's recipient of the Big Ten's Ford-Kinnick Leadership Award, the conference announced today. Wisconsin's Jake Wood will receive the Dungy-Thompson Humanitarian Award.
These awards recognize Big Ten football students who have achieved success in the areas of leadership and humanitarianism following their academic and athletic careers at a Big Ten university.
Randle El is the first Hoosier to receive the Ford-Kinnick Leadership Award. The late IU legend George Taliaferro won the inaugural Dungy-Thompson Humanitarian Award in 2011.
The Ford-Kinnick Leadership and Dungy-Thompson Humanitarian Awards are part of the Big Ten's annual awards program. The Ford-Kinnick Leadership Award is named for Michigan's Gerald Ford and Iowa's Nile Kinnick. The Dungy-Thompson Humanitarian Award is named for Minnesota's Tony Dungy and Indiana's Anthony Thompson. For more information on these awards, including biographical information on the namesakes, visit bigten.org.
Randle El, a 2012 IU Athletics Hall of Famer, is on the 2019 ballot for induction into the College Football Hall of Fame. The 2001 first team All-American and Big Ten Most Valuable Player finished sixth in Heisman Trophy balloting after he placed 13th in 2000.
He earned All-Big Ten distinction in 1999, 2000 and 2001, and he was named Big Ten Freshman of the Year in 1998.
The Riverdale, Ill., native was the first player in NCAA history to score 40 touchdowns (45) and throw for 40 TDs (42), the first to record over 2,500 total yards in four seasons, and the first to both pass for over 6,000 yards and rush for over 3,000 yards.
Randle El played in the NFL for 10 years with Pittsburgh and Washington, and was a member of the 2005 Super Bowl champion Steelers. He became the first wide receiver in NFL history to throw a touchdown pass in a Super Bowl.
In 2010, Randle El and his brother Curtis Randle El established The EL Foundation, which strives to provide life-changing opportunities for underserved children and their families across the country. The EL Foundation consistently provides and implements enrichment and recreational programs, camps and opportunities to support, encourage, develop and empower exceptional and successful young men and women.
Additionally, Randle El co-founded the Virginia Academy in 2013, where he serves as Athletic Director and Basketball Coach.
Ford-Kinnick Leadership Award Recipients
2011: Archie Griffin, OSU
2012: Jon Runyan, MICH
2013: Gene Washington, MSU
2014: Mike Hopkins, ILL
2015: Brian Griese, MICH
2016: Reggie McKenzie, MICH
2017: Troy Vincent, WIS
2018: Antwaan Randle El, IND
Dungy-Thompson Humanitarian Award Recipients
2011: George Taliaferro, IND
2012: Chris Spielman, OSU
2013: Drew Brees, PUR
2014: Brian Griese, MICH
2015: John Shinsky, MSU
2016: Trent Green, IND
2017: Chad Greenway, IOWA
2018: Jake Wood, WIS
Rutgers Women's Basketball Inks Davenport & Maddox to NLI's
Alabama Natives To Join Scarlet Knights For 2019-20 Season
PISCATAWAY, N.J. – Rutgers women's basketball coach C. Vivian Stringer has announced the signing of Alabama natives Maori Davenport and Joiya Maddox to national letters of intent to play for the Scarlet Knights beginning in the 2019-20 season, it was announced on (Tuesday).
"With the signing of Joyia and Maori, we have recruited winners both on and off the court," said Stringer of the two early signing period Scarlet Knights.
"These young ladies have won state championships at their respective high schools and I am so happy that both of them indicated that their current number one goal is to help their teams win another championship this season."
Davenport. a 6-4 forward hailing from Troy, Alabama, ranks as the No. 1 post player in the country according to Dan Olson's Collegiate Girls Basketball Report, the No. 15 overall prospect and No. 2 post player according to espnW HoopGurlz and No. 17 overall recruit by Prospect Nation.
A two-time AL.com Super-State and Alabama Sports Writers Association First Team 5A All-State selection, Davenport led Charles Henderson High School to its first state title in 2018 behind 18.2 points, 12.0 rebounds, 5.1 blocks and 1.7 assists per game. She was also runner-up Alabama Miss Basketball to current Scarlet Knight and fellow Alabama native Zipporah Broughton.
This past summer, Davenport guided Team USA to the FIBA American U18 Championship in Mexico City, earning all-tournament honors. During her gold medal stint, which included starts in four of team's six games, she averaged 7.8 points, 7.0 rebounds and 2.7 blocks per contest.
As a sophomore, Davenport averaged 15.4 points, 13.2 rebounds and 2.3 assists and totaled 181 blocks. She also set an Alabama High School Athletic Association record with 19 blocked shots and 25 rebounds and registered a rare triple-double.
"Maori is considered by all the scouting reports in the country as one of the top players in the class of 2019 at her position," said Stringer. "It is evident, that by Maori being selected to the 2018 FIBA U18 All-Tournament team that she is one of the post players next in line to represent USA Basketball on the world stage. I feel very blessed to have an opportunity to coach and mentor Maori throughout the next steps in her basketball and academic careers."
"Despite all of her accolades in her young athletic career, Maori remains a humble, driven, focused and determined individual," continued Stringer. "Maori possesses outstanding character traits that were instilled in her at a young age because of her family structure. Maintaining high grades, being on time for class, not missing school, being a leader in her community, school and athletic teams are not only a priority in her household, these things are simply a way of life for her."
Maddox is a 5-10 guard hailing from Hoover, Alabama, who ranks as the No. 28 guard prospect by espnW HoopGurlz.
A two-time Alabama Sports Writers Association Third Team selection, Maddox was named to the Alabama High School Athletic Association North-South Basketball Game as a junior, where she registered 15 points and four rebounds.
In the winter of 2018, Maddox helped Hoover High School to the Northwest Regional Final, while the previous season she averaged 10 points per game in leading Hoover to the Class 7A state title, the team's first state title since 2013.
In 2017, her Hoover High School squad ranked as high as No. 9 in the espnW 25 Power Rankings, winning 21 of the first 22 games of the year.
Maddox joined fellow 2018 Scarlet Knight signee Davenport on the AAU Alabama Roadrunners Montgomery. In the opening round game of the PSB Spring Showdown, Maddox poured in 28 points, which included dropping in seven 3-pointers.
"Joyia is an excellent shooter with great range," noted Stringer. "She will be able to extend the defenses that we face, allowing our inside players more opportunities to score. Her athleticism and length on defense will continue to allow us to put intense defensive pressure on our opponents, both in the half-court and with the 55 press.  It is our hope that Joiya, by the end of her career at Rutgers, that she will have broken many of the 3-point shooting records."
"Joiya's strong foundation has laid the framework for her to be successful in whatever she chooses to undertake," continued Stringer. "She is an incredible young lady and will be a great ambassador for Rutgers University. University professors will be so proud to call her one of their students. As much as I am going to enjoy her playing for the Scarlet Knights, I know that I am going to enjoy the interaction with Joiya off the court as well."