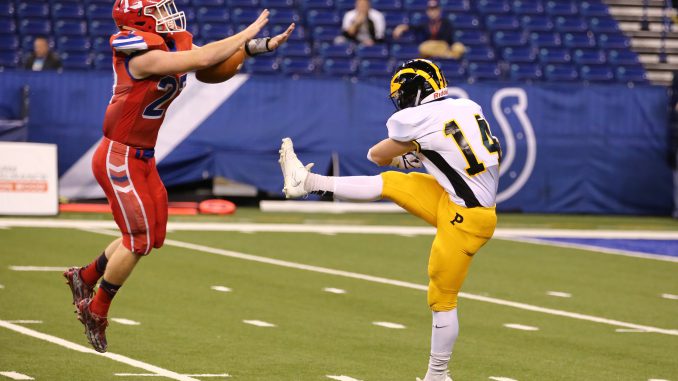 (by Steven Stremming)
The Linton Miners had been here before (Lucas Oil Stadium), in fact it was in 2015 when they earned red rings after a setback to Lafayette Central Catholic.
This year, with nearly every citizen of Linton in the stands the Miners only had their eyes set on the color blue, as in State Championship ones.
The game started with Tyler Meurer, Linton's senior quarterback hammering his way into the South end zone from a yard out after  a Garrett Mason, senior blocking a punt off of Pioneer's Keith Nies foot to give the Miners excellent field position on the 13.
And for the rest of the quarter Pioneer and Linton would juggle for field position.
At the end of one the Miners led 6-0.
Pioneer would take the ball over early in the 2nd period at the Linton 19 and behind tough sophomore Jack Kiser would rush the ball to the eight yard line where Kiser would hit Nate Johnson, junior for the score for a 6-6 tie. Pioneer's kick was blocked by Linton senior Kendall Williams.
Linton would take the ball over at their own 34 yard line where Williams would rush for three yards, Tyler Meurer would rush back to back five yard gains where Meurer would air it out 53 yards to 5'4, 125 pound senior William Smith for the score. Luke Wilson would hit the extra point to make it Linton-Stockton 13 Pioneer 6 at the break.
The third quarter would see teams trading off touchdowns as Pioneer scored on a Kiser three yard run to make it 13-12.
Linton not to be outdone scored when Tyler Meurer rushed 44 yards for his score to make it 19-12.
Pioneer would take the lead 20-19 when Pioneer's Jack Kiser scrambled  on a one year sneak then followed with a two yard power rush.
Linton would come back on a five yard score and then scored two points himself with a plunge into the end zone to put the Miners up 27-20.
Linton would secure the win with another Meurer rush and a Luke Wilson extra point.
Pioneer's Austin Harmon would win the Blake Ress Mental Attitude Award.
Leading Miners were Tyler Meurer rushed for 22 rushes for 163 yards, while Keaton Cox rushed for 74 yards on 9 carries.
Pioneer was led by Jack Kiser's 145 yards on 31 rushes and passed for 153 yards on eight of seventeen.
Ian Fonceca and Chance Howard totaled 13 tackles, Keaton Cox added nine tackles, Tyler Meurer added six tackles while Avery Gentry and Garrett Mason had four tackles.