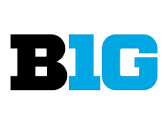 Cornhuskers get by Wolverines
INDIANAPOLIS: by Steven Stremming
Nebraska moved into the quarterfinals against Maryland after securing a 61-54 win.
Hannah Whitish led the way with 17 while Nicea Eliely adding 12. Jasmine Cincore and Maddie Simon tallied nine a piece. Kate Cain blocked seven shots establishing her with the second most in tournament history.
Katelynn Flaherty scored 17 while Halle Thome led the Wolverines with 21.