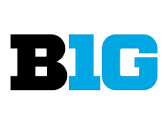 Terrapins Trip Hoosiers
INDIANAPOLIS: by Steven Stremming
The Maryland Terrapins came into Friday night's quarterfinal knowing the Indiana Hoosiers had played a four overtime, history making, second round game against Michigan State that advanced them into the game.
Maryland and Indiana traded punches throughout the game until the Hoosiers lost their legs in the final stanza to pull out a 67-54 hard fought win.
Maryland was led by Kaila Charles who scored 24 points on nine of eighteen from two-point land and canned six of eight free throws. Charles also collected seven rebounds and five assists.
Three Terps finished in double figures, Channise Lewis, Stephanie Jones and Brianna Fraser all scored ten points a piece.
Maryland outrebounded Indiana 39 to 26.
The Hoosiers were led by Seniors Amanda Cahill with 17 and Tyra Buss' 13. Freshman Bendu Yeaney rounded out the scoring with ten points.
Jaelyn Penn added seven points in the Terrapin win.