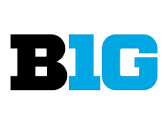 photo by Rick McIntyre, Excel High School Sports/McIntyre Imaging
by Steven Stremming
Indianapolis-Purdue was undaunted by highly ranked Ohio State in Game 1 of the Big Ten's Women's Tournament from the opening tip-off to the game's final buzzer.
Purdue came out on the floor with a what the heck mentality of we've got nothing to lose stance and they went to work.
Playing an up tempo game that frankly had Ohio State staggered was the correct dose of medicine that the doctor (Head Coach Sharon Versyp) ordered.
Purdue's under-rated point guard Ashley Morrissette handled the pressure of Ohio State's fierce  defense by dribbling through it or passing over the top to a waiting Dominique Oden and Andreona Keys in the wings to move the ball down the floor.
The Boilermakers then would sit up a high extended foul line offense with cuts off a baseline which more often than not provided drives by Morrissette.
Not to be outdone was the inside presence of Bridget Perry who battled for 11 points, eight rebounds, three assists, two steals and a pair of blocked shots.
Dominique Oden was vital as she hit six of twelve shots from the floor, four of five from the beyond the arc and a perfect four of four from the line.
Morrissette led the way with 24, Oden had 20 and Perry 11 for Purdue.
Ohio State was led by Shayla Cooper's 18 and Linnae Harper's 12.
All everything Kelsey Mitchell was held to nine points on three of twenty-two shots including one field goal after twelve attempts for nine points. Mitchell has been held to under ten points twice in her career, both by Purdue.
Purdue-Morrissette 24, Keys 2, Oden 20, Perry 11, Harris 5, Kiesler 0, McBryde 2, Cooper 7.
Ohio State-McCoy 5, Ke. Mitchell 9, Calhoun 3, Lewis 0, Cooper 18, Harper 12, Doss 5, Hart 2, Waterman 6.
Remember you can visit Carl Jake Ennis' Facebook page or read his tweets. Also for more pictures visit www.mcintyreimaging.com
Big Ten Women's Basketball tournament attendance: Day 1: 4,830; Day 2: 7,001; Day 3: 9,069