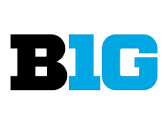 photo by Rick McIntyre, Excel High School Sports/McIntyre Imaging
by Steven Stremming
Indianapolis: Suzy Merchant's Spartans have always played well in Banker's Life Field House throughout the year regardless of her personnel.
Friday night was no different as the Spartans beat in-state rival the Michigan Wolverines 74-64.
After a tense first quarter when the teams closed in a very competitive 19-19 draw.
State would open a six point lead at the half with a 34-28 lead.
A second half that saw State outscore the Wolverines 40-36.
Merchant received quality play from Merrillville, Indiana freshman Victoria Gaines, as she scored 18 points along with four boards and three assists, in her first Big Ten Women's Basketball tournament game.
Splendid guard Tori Jankoska didn't disaapoint the larger crowd with 14 points, five boards and five assists. Freshman Taryn McCutcheon added seven assists and three timely steals while Bedford's Jenna Allen scored 12 points on six of eight shooting from the field.
Smooth Branndais Agee added twelve points in the win.
Michigan was led by freshman Kysre Gondrezick led the way with 23 with support from sweet shooting Katelynn Flaherty's 18 and Hallie Thome's16.
Michigan State moves on to play Maryland in Saturday's second game of the semi-finals at Banker's Life Fieldhouse.