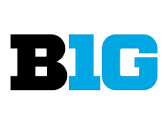 photo by Rick McIntyre, Excel High School Sports/McIntyre Imaging
by Steven Stremming
Indianapolis-The Purdue Boilermakers overcame a feisty Illinois Illini team in the second game of the Women's Big Ten tournament held at Banker's Life Field House and claimed a hard fought 72-58 game.
Andreona Keys was special today as she hit ten of fourteen shots from the field plus a perfect five of five from the line. Keys line also included six rebounds, five assists and two steals  in thirty eight minutes.
Keys had help from Bridget Perry's 16 and Ashley Morrissette's 13. Morrissette added six assists.
Another strong point for the Boilers was the over-al play from freshman Ae'Rianna Harris with seven points, six rebounds withfive blocked shots.
The Ilini were led by Kennedy Cattenhead's 15, Brandi Beasley's 14 and freshman Ali Andrews' 10.
Purdue (72)- Morrissette 13, Keys26, Oden 2, Perry 16, Harris 7, Gray 0, Kiesler 0, McBryde 2, Cooper 6.
Illinois (58)-Beasley 14, Holesinka 9, Kirkpatrick 5, Cattenhead 15, Andrews 10, McConnell 0, Overcash 0, Joens 5.