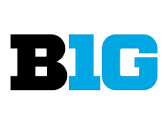 photo by: Carl Ennis
by Steven Stremming
Indianapolis- In a game which should never have been close as it was ended up exactly that way.
Rutgers shot 29 first half shots but managed to only make three attempts.
The Lady Badgers were off and running as they made nearly 50% percent of their shots in the first half ending the half with a 27-13 lead.
The second half saw Rutgers pound the boards and come up with even more field goat opportunities but this time they were hitting, in fact Rutgers went 7 of 17 from the field in the third quarter but Wisconsin hit eight of thirteen shots themselves and still led 48-36.
The final stanza saw Rutgers keep hammering away as they shot 22 times and eight attempts while Wisconsin was held to just nine attempts from the floor hitting five.
The first half damage had been done but not until the final seconds ran off the clock closing the Day 1 Women's Big Ten Championship had Wisconsin emerged with the win.
Wisconsin-Van Leeuwen 7, Howard 12, McMorris 9, Fredrickson, 5, young, 20, Gilbreath, 0, Kelsick 0, Marble, 5, Laszewski 0 and Shaw 3.
Rutgers-Parker 24, Jeune 4, Sanders, 11, Barber, 6, Harris 10, Rollins, 0, Williams 0, Keeling 0, Wallace 0
Attendance: 4.830 Day 1